Wednesday, March 14, 2007
The Soul Legend that was Finally Laid to Rest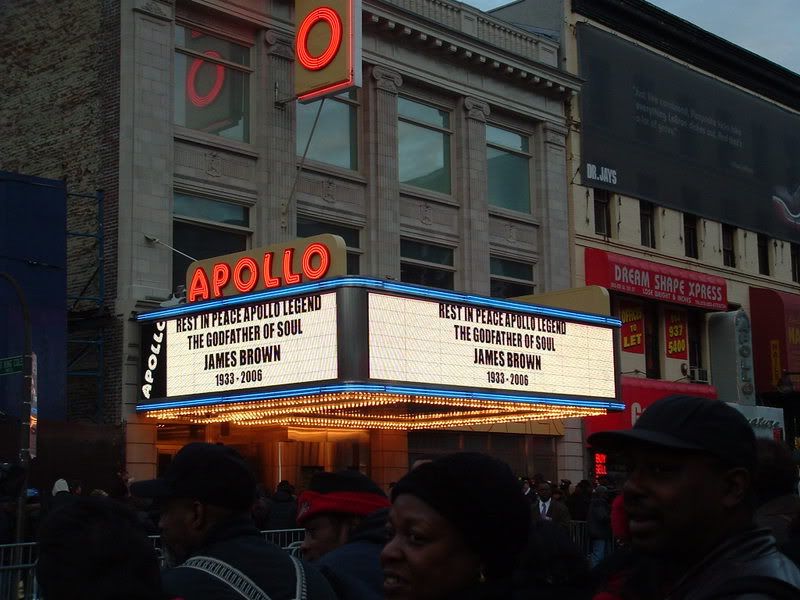 The above photo was taken back on December 27th, 2006 from my digital camera in front of the Apollo Theater in Harlem, NY. While the lines snaked around the streets from both sides, we decided to just take in the aura of the surroundings of 125th St.
It was a festive atmosphere. One that I won't forget anytime soon. The street was filled with street performers, stereos and boomboxes from inside the shops and on the streets blasting a wall of noise that was the fury of The Godfather of Soul himself.
Thousands of people visited him that day--and thousands visited him afterwards.
In fact, it really had/has become something of a spectacle--just like the man himself.
It sort of strikes me as odd that he was not buried properly until this past weekend, but then again--not really too much.
Upon hearing of his death that Christmas morning, I thought a bit about it--but really--for me--not even James Brown's death could take me away from my own family festivities. I put on one of his Christmas albums on my turntable that evening and thought about it.
The day after, I started reading all about it. I was particularly interested in the praise and tributes people said of him. On a messageboard I at times frequent, I remember a couple of 'grinches' attempting to spoil his name by stating he hadn't done anything of note since the 70s, one saying they hated the 'funk'. There was also his bouts with the law which included spousal abuse, drugs and alcohol--let's not forget his arrogance towards some of his band mates.
One shouldn't forget those parts of his life that were not so good. Generally, people want to be remembered for their positive attributes. Sometimes this is true. In the case of James Brown, I think it is safe to say that while he will be fondly remembered; but not without judgment from others. It's only fair.
I thought about the impact he had on not just myself as a music fan. How six years ago when I started getting 'heavy' into record digging, that James Brown singles and records were my introduction into the knowledge. I thought back to when I was a kid, and outside of oldies radio, my intro to him was 'Living in America' back in 1985. Not the best of JB, but when I was a kid, that song was like a anthem.
I thought back to the 'golden age' of hip-hop--where there was tons of James Brown samples (and still in current hip-hop--there is as well).
Then there was his cultural impact. The most common song I heard amongst that wall-of-noise outside the Apollo that cold late-December afternoon--was not 'I feel Good'--but 'Say It Loud (I'm Black and I'm Proud)'
The song was a rally cry for the civil rights era of the late 60s and 70s.
It is clear that Chuck D would not be Chuck D without him. It's pretty obvious Al Sharpton would not be Al Sharpton without his life being associated with James Brown. It's pretty obvious that the civil rights movement would not have at least 'sounded' the same without his booming energy.
I read a lot of good tributes to James Brown. There was an excellent one in Wax Poetics, with a recount from one of his managers back in the heyday of King Records.
I remember reading a good one from John Conyers, one of the few politicians that I generally like.
One gift I received from my brother on Christmas was a book by Simon Reynolds, titled 'Rip it Up and Start Again' which chronicles the post-punk music era of the late 70s/early 80s. In the Chapter on The Downtown NY No-Wave movement was a quote from James Chance/White of the Contortions who stated that 'Super Bad' was this inspiring record to him because of its downright free/avant jazz sounds that he likened to Sun Ra. It's true.
There were a lot of tributes. Even GW Bush stated he was an 'American Original'. That coming from an American Original grounded in such stupidity--might be enough for some to discount JB--but not enough for me.
This is just one I'm sure of hundreds-- if not thousands of memoirs of the man--and my distant, yet close music wise-- relationship.