Monday, October 22, 2007
RIP Lance Hahn of J Church
I had this piece written late last night on the passing of Lance Hahn that I deleted myself earlier this morning. I felt as though my writing was just not up to par for a man I was reminiscing over (TROY--Pete rock / cl style).

Of course, I cannot claim to be that much of a writer or lyricist like Lance was.

Lance Hahn, of San Francisco Bay Area / Austin, Tx. band J Church passed away yesterday afternoon due to complications with his kidneys. He was just 40 years old.

I can remember the first time I heard J Church. It was on WPRB Princeton back around 1994 (ironically, I believe the song 'Ivy League College' was the song). I was just starting to divulge myself in the diy punk scene and within a year of hearing J Church songs on the radio I saw an ad in MRR from Broken Records and ordered the legendary 'Brouhaha' compilation (featuring Monsula, Jawbreaker and Cringer -- Lance's band from his time pre-dating the continental US from his home state of Hawaii) as well as The classic Singles Going Steady compilation of early J Church singles.

Lance had a knack for writing melodic songs that had some melancholic moments (or seconds) that brought references to Jawbreaker--however--his narrative delivery was a lot different that the more 'beat-esque' lines of Blake Shwartzenbach.
While both had a sense of writing personable lyrics, Lance wrote a bit more straightforward, like journal entries -- wether that was discussing his affinity for certain female fronted bands ala Bratmobile or Bikini Kill, working at a factory and other working class jobs, boss-culture, pop-culture, politics, socialism, anarchism, music, riding his bike in the city, family issues, relationships, etc.

As far as I'm concerned, the biggest thing for me when I was co-editing a fanzine with some friends for our high school zine (titled Punker than Teddy Ruxpin) was being able to convince a guy who ran a record shop in Corpus Christi, Tx. to do a interview with Lance and Gardener of J Church when they came through a venue that was known as the Carousel that stood next to my own families photography shop.

The interview was lengthy, but it was never boring at all. It felt like a genuine, bonafide interview. One that was on par or better than those guys at Punk Planet or MRR could have had. We were doing all these interviews with a lot of local and regional bands that gave one sentence goofy answers and maybe about the most substance we could get out those interviews might have been discussion of quotes from the Simpsons (well, to be fair there was a Lifetime interview we did that did prompt the great quote from Dan Yemin--"Start a Zine, Start a Band, Throw A Brick")Don't get me wrong, the local bands were generally fun and you expected a little bit of a different vibe coming from where were were. I mean, it wasn't Berkeley, and we weren't dealing with bands that played venues like Gilman. We weren't dealing with bands that toured outside of the east coast--or even outside of pa/nj/ny!

So I read and re-read that J Church interview over and over. It was great. Lance had his head on straight and --so straight--that he (sadly) predicted the current state of affairs our world is in. Maybe that wasn't hard to figure out, but I took his words seriously. He prompted me to think and rethink my viewpoints and prompted me to read up on what he was referencing (wether that was castro or marx or if it was wanting to figure out how to get my hands on the video version of urgh! a music war so i could figure out what the better parts were that he was talking about -- surely pere ubu was good, and the police--not so good??)

I recently had been thinking a lot about the song 'Alone When She Died' from the 1996 album, 'Drama of Alienation' . The song is about how his grandmother (on his mothers side), who presumably came down with some form of alzheimers/ dimentia ('my grandmother died with the mind of a child--all she did was smile')-- was alone with no family member when she passed away. The family didn't mean to grow apart, but they were living thousands of miles away and dealing with their own lives as well. I should mention that I haven't listened to this album in a couple of months--but my grandmother (on my dad's side) has recently been diagnosed with alzheimers.

It is a sad song, no doubt about it. Lance reflects about that situation. Somehow, just thinking of this song makes me sorrowful, yet I feel some sense of comfort from this song that may be inexplicable.

Reading other tributes to Lance I read a number of people who mentioned how they related to his lyrics or that it helped them through some tough times. And I think it was that personable lyricism, the ability to relate to seemingly normal things--sometimes tragic things==to discuss issues with that ability to create imagery--it is not an easy thing.


I just want to say thank you Lance for being an inspiration to myself and many others.

I'm adding a couple of links here for those who wish to read some of the better tributes--

http://www.avclub.com/content/blog/lance_hahn_1967_2007

http://www.austin360.com/blogs/content/shared-gen/blogs/austin/music/entries/2007/10/21/rip_lance_hahn_1.html

Thursday, April 19, 2007
Soulsville U.S.A. - Memphis
We both had a little time off, and thanks to a little bit of extra cash bestowed upon us by act of sheer dumb luck-- we decided to use the time by have a road trip out to Memphis, Tennessee.
We also made good use of AAA Road maps and a bunch of stapled sheets of paper that gave us info on thrift shops, flea markets, and notable attractions in towns and cities along interstates 81 and 40.
Towns we stayed in included-- Knoxville, Nashville, West Memphis, Ark. and Bristol, TN.
The highlight of the trip for us was easily the Stax Museum of American Soul Music in Memphis.
The above photos are from around and in front of the Stax Museum.
Wednesday, March 14, 2007
The Soul Legend that was Finally Laid to Rest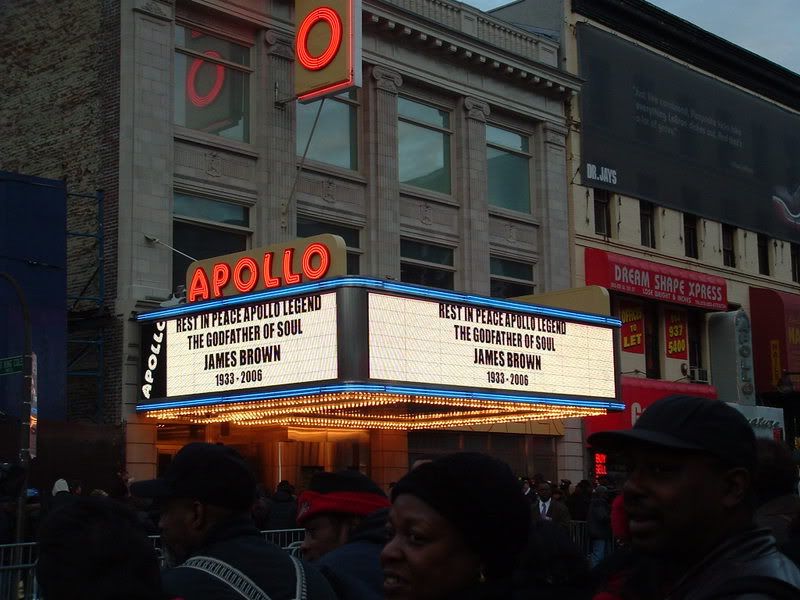 The above photo was taken back on December 27th, 2006 from my digital camera in front of the Apollo Theater in Harlem, NY. While the lines snaked around the streets from both sides, we decided to just take in the aura of the surroundings of 125th St.
It was a festive atmosphere. One that I won't forget anytime soon. The street was filled with street performers, stereos and boomboxes from inside the shops and on the streets blasting a wall of noise that was the fury of The Godfather of Soul himself.
Thousands of people visited him that day--and thousands visited him afterwards.
In fact, it really had/has become something of a spectacle--just like the man himself.
It sort of strikes me as odd that he was not buried properly until this past weekend, but then again--not really too much.
Upon hearing of his death that Christmas morning, I thought a bit about it--but really--for me--not even James Brown's death could take me away from my own family festivities. I put on one of his Christmas albums on my turntable that evening and thought about it.
The day after, I started reading all about it. I was particularly interested in the praise and tributes people said of him. On a messageboard I at times frequent, I remember a couple of 'grinches' attempting to spoil his name by stating he hadn't done anything of note since the 70s, one saying they hated the 'funk'. There was also his bouts with the law which included spousal abuse, drugs and alcohol--let's not forget his arrogance towards some of his band mates.
One shouldn't forget those parts of his life that were not so good. Generally, people want to be remembered for their positive attributes. Sometimes this is true. In the case of James Brown, I think it is safe to say that while he will be fondly remembered; but not without judgment from others. It's only fair.
I thought about the impact he had on not just myself as a music fan. How six years ago when I started getting 'heavy' into record digging, that James Brown singles and records were my introduction into the knowledge. I thought back to when I was a kid, and outside of oldies radio, my intro to him was 'Living in America' back in 1985. Not the best of JB, but when I was a kid, that song was like a anthem.
I thought back to the 'golden age' of hip-hop--where there was tons of James Brown samples (and still in current hip-hop--there is as well).
Then there was his cultural impact. The most common song I heard amongst that wall-of-noise outside the Apollo that cold late-December afternoon--was not 'I feel Good'--but 'Say It Loud (I'm Black and I'm Proud)'
The song was a rally cry for the civil rights era of the late 60s and 70s.
It is clear that Chuck D would not be Chuck D without him. It's pretty obvious Al Sharpton would not be Al Sharpton without his life being associated with James Brown. It's pretty obvious that the civil rights movement would not have at least 'sounded' the same without his booming energy.
I read a lot of good tributes to James Brown. There was an excellent one in Wax Poetics, with a recount from one of his managers back in the heyday of King Records.
I remember reading a good one from John Conyers, one of the few politicians that I generally like.
One gift I received from my brother on Christmas was a book by Simon Reynolds, titled 'Rip it Up and Start Again' which chronicles the post-punk music era of the late 70s/early 80s. In the Chapter on The Downtown NY No-Wave movement was a quote from James Chance/White of the Contortions who stated that 'Super Bad' was this inspiring record to him because of its downright free/avant jazz sounds that he likened to Sun Ra. It's true.
There were a lot of tributes. Even GW Bush stated he was an 'American Original'. That coming from an American Original grounded in such stupidity--might be enough for some to discount JB--but not enough for me.
This is just one I'm sure of hundreds-- if not thousands of memoirs of the man--and my distant, yet close music wise-- relationship.
Thursday, November 30, 2006
Hello, Howdy, Hola!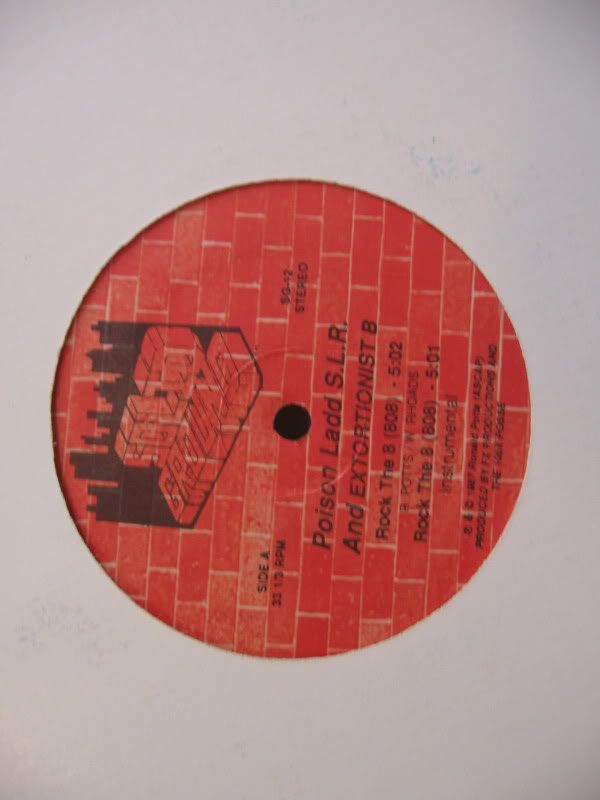 This is Zeke writing to give an update.
In a month or so, I will be ending my year term at the non-profit I have been working at in a neighborhood in upper north philadelphia (the 19140 zip!)
there has been some highs, some lows, and just a whole lot of living life!
at any rate, Zach and I had done a radio program over the past Thanksgiving weekend at WMUH in Allentown. I absolutely felt comfortable being on the mic, I felt the program was one of my favorites to do ever. It just felt right and things fell in place with a great flow. I truly miss doing radio. We hope to do a couple this upcoming winter break, but who knows? We will keep you informed.
Zach has moved down here for the time being as well. he has been subbing at some suburban philly high schools. he seems to be enjoying it, but hopes to get a class of his own soon, as he is certified.
Oh yeah, that 12" pic above is of Poison Ladd & Extortionist- a scarce and truly awesome slice of OS Philly hip-hop. We found it digging at a overlooked flea market here a few weeks ago.
Later,
-Z
Sunday, March 26, 2006
Loving Grapevine
We have been really lax about updating this with playlists and whatnot.
But here's the scoop -- we haven't done too much on WMUH asides from fill-ins during breaks. There are definitely some playlists I'd love to have archived on here that were not posted.
But, asides that--we have been pretty busy in our daily lives.
As for myself (Zeke, updating this) -- I've been working at a small non-profit that is tightly wrapped in with the community it serves. It is both a great and demanding position, and I'm enjoying the experience.
Things I'm thinking of at the top of my head--
In music news-- Thanks to
WFMU
, Zach was able to go to the No Fun Fest in Brooklyn last weekend and I do believe he had a fun time (oh, the irony!)
--I was sick all of this past week and I passed on the fun to members of my family.
--Popeye's fried chicken is something you should not eat when sick.
--W.E.B. Dubois
-- 2 of my current fave honest, hard working bands, Pissed Jeans and Oxford Collapse have just signed to Sub Pop meaning that that label is now a kazillion times awesomer than when it was releasing the Fruit Bats and Damien Jurardo just a year or two ago.
-- the Democrats (by and large) not standing up for what is right. Yeah, I'm talking about censure among many other things. But then again, this is nothing new.
-- and finally --
this
blog for all of you New Zealand music fans. I named the title of this thread after the Jean Paul Sartre Experience song of the same name. It is making me think Spring!
Enjoy and download the mix!
Thursday, January 12, 2006
WMUH Playlist for 12/27/05 - 4-6pm
91.7fm
wmuh allentown
muhlenberg college
http://muhlenberg.edu/wmuh

Squirrel Bait -- the final chapter -- s/t
The Gories -- house rockin'
Einstein's Riceboys -- soda jerk --s/t lp
Luis Agudo --- from afrosamba lp
A-KO -- from 'Breakbeatraer' 12" ep compilation put out by soulstrut.com
---
Calico Wail -- I'm a living sickness -- v/a: Psychedelic Unknowns 2x7"
The Heptones -- I Hold the Handle -- Best of the Heptones lp
Black Sheep -- The Choice is Yours -- 12"
Ana Y Jaime -- love story -- s/t
Letta Mbula -- pula yetla -- David Axelrod 1967-70 Capitol Years
----
Primitive Calculators -- beat goes on -- s/t
Victor Lundberg -- an open letter to my teenage son -- an open letter... lp
Klein & MBO -- dirty talk -- s/t lp
----
(N) Fire Engines -- discord (peel session) -- Codex Teenage Premonition
Bakersfield Boogie Boys -- get off my cloud -- s.t (rhino put this out back in 1980--think Devo, Flying Lizards and Silicon Teens)
Candid Telefun -- hate card --(Candid Telefun was a Harold Flender doing prank calls back in the early 60s--here he asks unsuspecting ladies that work at a greeting card store if they have any "hate cards". he is searching for a "Drop Dead Card" to give a guy who is making eyes at his girl.)
Robyn Hitchcock - meat - black snake diamond role ep
(N) The Ex - new wars -- singles period 1980-90
(N) The Professionals - a part of being with you -- v/a: cult cargo: belize city boil up -- numero group (Happened to actually find the original Professionals 2 x lp this came out on a couple of months ago, right before this comp came out. If you can get your hands on it -- get it--or at the very least--get this comp!)
Chandra -- opposite -- 12" (NY No-Wave featuring one of the guys from Material paired up with a young teen girl. really interesting and incredibly danceable. have no idea why this one isn't talked about.)
----
(N)A-Frames - police 1000 -- 7"
Ivy Green -- why not tonite -- s/t lp
(N)Maximum Joy - searching for a feeling -- unlimited (79-83)
Buari -- karam bawi -- 45
(N) American Analog Set - born on the cusp - set free
---
Embrace -- end of a year -- lp (wrapping up our year in radio that was 2005)

Tuesday, January 03, 2006
12/23/05 Holiday Radio Show!!!
10am-noon WMUH Allentown
http://www.muhlenberg.edu/wmuh
Esquivel -- Space Age Bachelor Pad Christmas -- Esquivel XMas
Clarance Carter - Back Door Santa
The Damned - there ain't no sanity clause -- punk rock xmas
Kids of CPH - O Come All Ye Faithful (mp3 --wfmu blog-- kids from the Children's Psychiatric Hospital at U of Michigan)
Suicide -- hey lord -- A Christmas Record (Ze Records)
Emperor Penguin -- Erotic Xmas (Home for the Holograms) - My Pal God Holiday Record Vol. 2
---
Treacherous Three -- Christmas Rap
The Fall -- No Xmas for John Quays -- Live at the Witch Trials
Rebecca Gates -- 12/31 v/a: My Pal God Holiday Record Vol. 2
Ghetto Reality -- I Want -- s/t (Folkways)
Darlene Love - Marshmallow World -- v/a: Phil Spector's Christmas ALbum
---
The Sonics -- Santa Clause
Otis Redding -- Merry Christmas Baby
Mike Nichols & Elaine May -- Merry Christmas Doctor -- Examine Doctors
Mikado -- Message de Noel -- v/a: Ghosts of Christmas Past (Remake)(Factory records/les disques du crepescule)
Bob & Doug McKenzie -- 12 Days of Christmas-- Great White North (really rick moranis & some other guy from sctv)
El Vez -- feliz navi nada -- v/a: Happy Birthday, Baby Jesus (and also can be found on the Punk Rock XMas album)
---
Screamin' Jay Hawkins -- It's Christmas -- A Midnite XMas Record (Midnite Records)
Sweet Tee -- Let the jingle bells rock -- v/a: Christmas Rap
Ramones -- Merry Christmas, I Don't Want to fight tonight -- PR Xmas
Junior Varsity -- don't believe in christmas --- v/a: kindercore christmas vol. 2
Star Wars Cast -- R2D2 We Wish You A Merry Christmas -- Christmas in the Stars--A Star Wars Christmas (featuring a young Jon Bon Jovi---credited as Jon Bongiovi)
Allen Ginsberg -- XMas Gift -- the lion for real
----
John Fahey -- Bells of Saint Mary's -- John Fahey Christmas Guitar VOl. 1
The Dickies -- Silent Night --Punk Rock Xmas
Cabaret Voltaire -- invocation -- v/a: Ghosts of Christmas Past (remake) (factory/les disques du crepescule)
Man or Astroman? -- frosty the snowman --v/a: happy b-day, baby jesus (sympathy for the record industry)
Ghetto Reality -- Virgin Mary --s/t (folkways)
Impressions -- long long winter
The Ventures -- Christmas album
Notes:
This was a very enjoyable program to do. We accidentaluy left the 1st vol. of the My Pal God Holiday Record--so none of the classics such as Crucial Youth, The goblins, etc.
At any rate -- here are some notes regarding the above photos --.
GHETTO REALITY ---
I have mentioned them before on this blog. They are perhaps most known for the song 'James Brown'. From around 1970. They were inncer city schoolchildren from Rochester, NY. Their teacher--Nancy Dupree co-wrote the songs with the kids.Folkways put out the lp, but it is a very rare find. The record has a number of Christmas related songs on it--and they are fantastic.
NPR recently did a spotlight on this genre of young children doing soulful tunes from that era--known as "Kid Funk", a compilation that has recently come out--and here is the link to that story so you can listen in --
http://www.npr.org/templates/story/story.php?storyId=5039220
V/A: Ghosts of Christmas Past (Remake)
Factory Records had a co-existing label in Belgium they funded called Les Disques Du Crepescule. They put out a number of holiday records in the early-80s. A lot of the Factory post-punk bands/and related bands were on these compilations.
We played Mikado and Cabaret Voltaire--but this outstanding record includes Durutti Column, Tuxedomoon, The Names, Paul Haig, The French Impressionists, etc. Found that record in a small ghost town near San Marcos, Texas --an odd spot to find such a thing--but I'm glad I found it before the hot sun warped it!
The flip-side artwork on this lp has the three stylized wisemen --one of which is carrying a Devo-styled Energy Dome to the young baby with the halo.