Tuesday, August 09, 2005
WMUH Playlist for 7/29/05 12-2 pm
WMUH
91.7 fm
Muhlenberg College
Allentown, Pa.
http://muhlenberg.edu/wmuh
(n)= new
(r)= request
Negativland
Grandmaster Caz & Chris Stein (of Blondie) -- Wild Style Theme Rap -- Wild Style Soundtrack
(n)-- Peanut Butter Wolf -- umbrellas -- v/a: The Free Design -- Now Sound Redesigned
Preston Epps-- bongo in the congo -- bongo bongo bongo lp -- original sound
Junior Murvin -- Police and Thieves (Jamaica's Curtis Mayfield! this is the original that The Clash covered)
(n) Still -- blindness (live) -- remains (the dj from dalek doing a solo thing. pretty good.)
----
Limbo Race -- here comes Kafka
Marine Girls ---Love to Know -- Lazy Ways/Beach Party (Unrest covered one of thier songs-- I did not know that until i picked this up.)
The Van Pelt -- speeding train --- ep
(n) Dungen -- jamna plagor -- ta det lungt ( i like the subliminal sounds record label website. they sell a bunch of old weird, strange, exotica records and the like)
3rd World Steel Orchestra -- gold -- 12"
Ferris Coffey -- teen queen -- v/a: kicksville vol. 3 Raw Rockabilly Acetates
Sam & Joe --- save the children -- v/a: fear of smell - vermiform (this compilation remains one of my faves of all time. -- please see notes at bottom of playlist for more---)
----
(n)The 101'ers -- (some live song???) -- from that new discography/unrelease material disc. get it-- joe strummer's band that predated the clash!)
David Hemmings -- talkin' l.a. -- happens
The Embarrassment -- intro/proof -- blister pop -- my pal god
(n) Bob Mould -- i am vision i am sound -- body of song
----
Ivor Cutler & Linda Hirst -- a doughnut and a walk -- priveledge
(n) 8th Route Army -- Record Burning Party Tonight (v/a: Shielded by Death Vol. 3 Rare Ct. and Southern Mass Punk)
Red Kross -- rich brat -- v/a: life is ugly, why not kill yourself?
The Druids -- it's a day -- 45 (excellent 60s garage)
Monolo Gas -- chacal -- a todo gas lp (latin funk)
Hermine -- torture -- 7"
---
(n) Bottom of the Sea -- ??? - from a split 12" ep with Coyote
Reagan Youth ---
The Slits -- final track -- cut
Notes:
on Sam and Joe--- "Save the Children"
WFMU's (and former WPRB legend) Mike Lupica discusses it on the fmu blog:
"Like most people with even a chicken-nugget sized brain, I'm pretty pissed off about the state of the world most of the time and I'm betting that you are too. By (multiple) request, here is one of the truly great protest songs of our day and age. Sam and Joe's "Save the Children" , as it was meant to be heard in its full, un-edited glory. This track is originally from the excellent "Fear of Smell" compilation (1992, Vermiform Records) which is still available here. It's a rant that not only covers the general "war is bad, it would be groovy if everyone had enough food" ideologies, but also ventures into the largely unchartered "I demand the right to masturbate whenever I want to" sentiment."
download the mp3 here -- I REQUEST that You do!!!
http://blogfiles.wfmu.org/HT/Sam_and_Joe_-_Save_the_Children.mp3
Stanley Motta "Mento" Music of Jamaica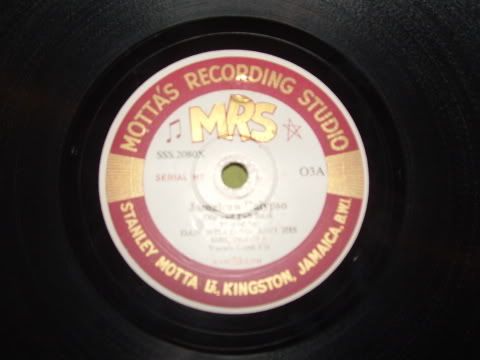 I think occasionally we will use this spot to discuss and showcase some of our finds--generally from flea markets, yard sales, and thrift shops.
The first one of discussion is a rare 78 rpm record from Lord Fly on the MRS label (Motta's Recording Studio)of Kingston, Jamaica. The MRS label was the first Jamaican label.
This one was found at a flea market over the past weekend. The vendor wanted to get rid of all her 78s, I suppose she was tired of looking at them. Well, she offered a stack for 50 cents--I did find a Brazilian 78 in the bunch as well, but back to the Lord Fly recording.
The 78 is sort of Calypso sounding, but isn't --- it sounds almost like a mixture of calypso with dancehall reggae-- but since it was a predecessor to reggae and ska -- It is called "Mento".
The recordings on the MRS label are highly sought after and go for some good cash, something I did not know until I picked it up. The first release on the label is going for over 100 dollars currently on an ebay auction. This is the second release on the label.
The recording sounds great and looks great. It's authentic and a great piece of history of Jamaican music. I have been coming across a batch of 78s in really nice condition as of recent-- which seems to be tough to across.
Some choice links on Mento
http://mentomusic.com has some nice scans and history regarding Mento.
You can listen to a NPR piece from 2004 about the label and a recent compilation that came out titled "Mento Madness: Motta's Jamaican Mento 1951-56".
http://www.npr.org/templates/story/story.php?storyId=1842828
and...from "all songs considered"--
http://www.npr.org/programs/asc/archives/asc63/#madness
Saturday, August 06, 2005
New Zealand Evening
I'm not sure if I've written of this before---
but...
http://www.nzmusic.com/track.cfm?i=2238
That is a link to the Chills' "Pink Frost" video.
Such a beautiful (if not haunting and melancholy) song.
While there, acquaint yourself with New Zealand music. I suggest The Clean, Chris Knox, Bailterspace, etc. I would say check out the Verlaines' "Death and the Maiden", but that video link is really the Clean/David Kilgour sideproject band -- The Great Unwashed-.
All this is making me want to visit NZ.
2 radio show playlists will go up shortly.